Dear Mr. Khan
You rallied for change just a year ago in the 2013 General Elections. Your party bagged 7.7 million votes in the General Elections, which set your party as the 2nd most popular party based on the number of votes it received.
Your call for change came at a time when the Election Commission, and the returning officers were screening potential candidates, and many were disqualified on the grounds that they evaded and did not pay taxes, and utility bills. 7.7 million Pakistanis pinned their hopes to your call for a change.
Unfortunately, this change seemed to be just another election buff. After the elections your party rejected the results, protested, and made government in Khyber Pakhtunkhwa.
I would like commend your party's policies on improving the educational infrastructure and the quality of education in Khyber Pakhtunkhwa. Credit should be given where it is due.
However, your attitude and actions have shown that you too, sir, are one of those elites who bend the law and Constitution to use it to their advantage. You and your party is not respecting the mandate given to your political opponents; you have shown yourself to be no better than those who were totally rejected by the electorate.
You had made a promise of holding local government elections in Khyber Pakhtunkhwa within three months. It has been over a year now, and your promise has been just mere words. Is this call for Change just as another hollow promise?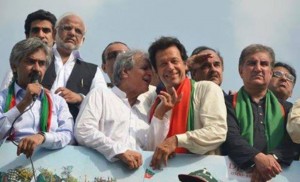 The Azadi March which you and your party came up with had dubious goals initially, and later on you settled upon asking a democratically elected Prime Minister to resign, threatening civil disobedience and public disorder. This is clearly against the law, and the Constitution. This, as defined by Article 63(1)(g) of the Constitution, is a ground for disqualification for members of the Parliament.
While protesting peacefully and without arms is a fundamental right of assembly under Article 16 of Constitution, this does not cover attempts to overthrow a democratically elected government, which may be classified as treason. Your actions not just undermine the rule of law, but also violate the laws of our country, and our Constitution.
So, at this point, sir, I am left with some questions unanswered:
Would the PTI government in Khyber Pakhtunkhwa promote civil disobedience and non-payment of utility bills and taxes as a Government policy?
Would the PTI government in Khyber Pakhtunkhwa not collect GST and other provincial taxes, or would it be hypocritical at this point?
What difference, if any, remains between yourself and your party's lawmakers who would not pay taxes and utility bills and those prospective candidates who were rejected by the returning officers for evading taxes and for non-payment of utility bills?
If this civil disobedience and public disorder initiated by your party leads to disqualification of PTI lawmakers, including yourself, under Article 63(1)(g) of the Constitution, would you still blame it on this democratic government?
Would you still blame the Punjab police for public disorder in the Capital which would undoubtedly result in PTI's march towards the Red Zone?
The election reforms you seek are a welcomed change. However this change should come from your elected position in Parliament as a lawmaker and not from a show of force of your street power while laying a siege to the Parliament.
Yours sincerely
Ahmer Jamil Khan
Karachi, Pakistan